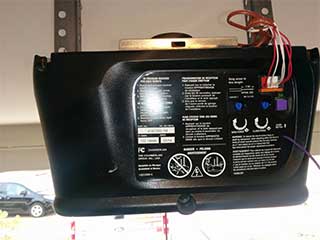 Technology just keeps getting better and often that means greater convenience for everyone. Homeowners can now, however- rejoice because the ultra-convenient smart device garage door opener is now alive and well and available for quick installation.
What's the point of a smart device garage door opener, anyway? Well for one, they will add an extra layer of safety dynamics to your garage door and therefore your home. And specific available apps can add even more dimension to the possibilities! You can set up fabulous extras- such as an alert every time the garage door is opened or closed. Plus, you can now purchase a specific app that will alert you wherever you are in the world! That means that in your next camping weekend or even your little trip to Vegas- you will be in control of your home. You will be able to monitor the goings-on in your home just seconds after you pull that slot machine handle!
Think of the Possibilities
Sounds almost futuristic to think you will be able to take care of simple things like opening the garage door for a delivery, or a family member who lost their keys, or whatever- from work or even your vacation. But, depending on which type you choose, it happens all the time with a smart garage door opener. And you don't have to share pins or codes with anyone either. Remote access is the main benefit of these smart devices and it is one not to take lightly. But security shouldn't be taken lightly either. Having a smart device system installed will keep your home safer for you, your family and your property.
Easy to Install
Having all this security is only a quick installation away. Each smart device is usually installed by simply mounting a Wi-Fi hub in close proximity to your garage door, as well as a door sensor on the actual door. They can be controlled by your iPhone or android phone- that's it! Installation could also involve an app that makes it possible to monitor the garage door 'goings-on' from anywhere. And smart devices will usually work on most standard garage doors.
Thinking about getting a garage door opener or replacing your old one? You may want to think of getting the latest with this super smart garage door system! All these great features will be yours. And don't worry, if you already have a garage door opener, you can get it upgraded to a smart device system.
With all the styles available you may even be able to have it installed on your existing system and just how smart is that? Owning a smart opener could be a mere phone call away!