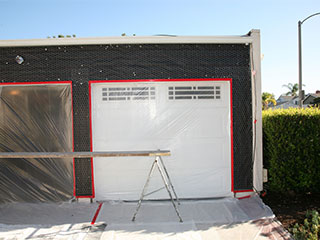 You may know you have to run some tests and lubricate the spring, but choose to spend the weekend doing fun things with the people you love. We can't blame you for that. That's why we're here to assist you. Our professional technicians can take care of all the maintenance tasks your garage door may require, and make the proper repairs when necessary to help you prevent more serious problems.
Full Service
When you entrust us with a maintenance job, we take special care to inspect, adjust, tighten, or otherwise optimize each and every single component of your garage door. Our work begins with a full inspection of the panels, hardware and electronic parts. We also run special spring, opener and sensor tests, to ensure all of the system's safety standards are up to par. In case our team finds any problem, we'll set about fixing it in the shortest time possible.
Taking Care of Springs
Whether you have a single torsion spring or a pair of extension ones, our experts are more than capable of giving each type the perfect care it requires. These components are responsible for operating your garage door and need regular testing and adjustment to continue to function at an optimal level. Proper lubrication is a great way to ensure that. The components connected to the springs are equally as important. Our technicians closely inspect the lift cables and will replace them right away if they seem to be frayed or damaged in some way.
Ensuring Optimal Opener Performance
Whether you have a classic chain drive unit or a belt drive one with high-end technology, we'll always show give it the perfect treatment it deserves. Our experts test to see if the travel distance and the force-limit should be adjusted, and will do so on the spot if necessary. Safety is always on our minds, and any opener sensor that doesn't pass our tests will get replace straightaway.
For professional maintenance ensuring the safety and efficiency of your automatic system, call Garage Door Repair Gilbert today!
Couldn't find what you're looking for? We also offer:
Garage Door Troubleshooting Services
Garage Door Torsion Spring Replacement