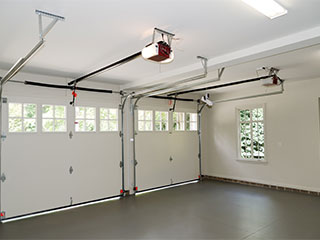 When it comes to optimising the functionality and practicality of your garage door, we've got you covered. After all, your garage is far more than a secure space to park your car at night. Today, many homeowners use their garage as one of the main entry points to their house, so it's important that your system remains secure, reliable and safe.
An opener is a great way to ensure all that.
What Do These Devices Do?
An opener is essentially a motorized unit that allows your door's operation to become automatic, using a complex system that utilizes the door's springs as well as several cables, and pulleys. Most modern models also come equipped with photo eye sensors which make sure that this automated process doesn't end up damaging you, your family or your property.
There are three main types:
Chain Drive
This type of garage door opener is incredibly popular due to its affordability, reliability and flexible nature. As the name suggests, this device uses a chain in order to push a trolley which then moves the garage door up and down with effortless ease.
Screw Drive
Highly functional and easy to maintain, this type of garage door opener operates using a threaded steel rod, which is responsible for opening and closing the door.
Belt Drive
Using a strong, durable belt to move the garage door up and down, a Belt Drive opener is renowned for its smooth and quiet operation, making it the ideal choice for homes with living quarters close to the garage.


So How Can We Help?
Our highly skilled technicians at Garage Door Repair Gilbert pride themselves in offering a fast, professional and – most importantly – reliable repair service for various types of openers. Be sure to contact us for any related need you may have.
We also offer the following:
Roll up Garage Door Maintenance
New Opener Remotes & Clickers
Garage Door Cable Replacement
Torsion & Extension Spring Replacement