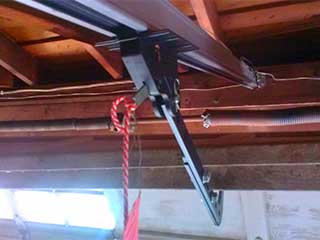 As a homeowner, you know that life can throw inconveniences your way at the worst possible times. Having your car stuck in the garage is the last thing you want to happen on a busy day. This is why it's always a good idea to have the best local experts in your corner! At Garage Door Repair Gilbert, we cover everything from emergency situations to regular checkups – and we never settle when it comes to quality, especially not when it comes to springs.
Replacing Garage Door Springs
Most springs have a certain life cycle, and when they reach it they break. At that moment there's not much to do other than having them replaced. Our technicians can pay you a quick same-day visit and replace the broken part in just a couple of hours, so you can start using your door safely once again.
Using the Right Springs
Garage doors come in all weights and sizes, and this means that we need to fit the right springs in order to balance the door properly. Using the wrong type of springs could lead to them breaking soon after, as they might not be able to support the door's weight. While most residential doors use torsion springs, we make sure to carry extension models as well, just in case. After replacing your broken parts, we will perform a balance test to make sure your door is safe to use.
Safety Inspections
With all repairs, we also offer a free safety inspection, so you can rest assured all the moving parts on your door meet safety standards and work as they should. Some of the hardware could be older than the springs as they are usually the first to go, so we make sure everything else is in tip top shape. It's important to us to make sure our customers are not only 100% satisfied with our service, but are also left with a fully functional, safe, and reliable door.
Let us know if you need any help with your door or springs!

In addition, we offer:
Part Replacement & Lubrication
Genie Garage Door Openers
Oil Tempered Torsion Springs
Emergency Garage Door Services