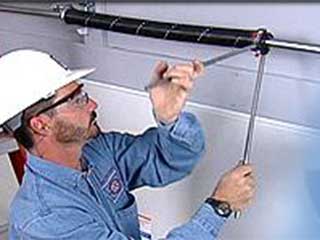 The mark of a well-standing garage door is periodic maintenance, and that maintenance can only be carried out by professionals is a myth. A bit of periodic attention from your side can go a long way in keeping your residential door in top shape.
Without further ado, here are five quick tips that you can use to maintain your investment and keep it in good health.
Periodic Lubrication

This is a no-brainer. All mechanical equipment needs periodic oiling, and garage doors are no different. Our experts recommend using lubrication once every three months for smooth functioning. Oiling all the moving parts like rollers, hinges, and nut-bolts can go a long way in increasing the lifespan of your door.

Door Reversal Testing

It is a good idea to check the reversing system of your garage door every once in a while. Especially in households with kids, this check should be done once every month. Keep a brick or a stool in the way of your door and see if it detects and automatically reverse itself while closing. If it does, then your door is safe. Otherwise, it might be a good idea to give us a call.

Visual Inspection

Garage doors can be considered external devices. Therefore, a brief visual inspection every time you spend time in your garage is a good idea. Look for any insects, gravel, and rust on and around the door and fix them if possible.

Battery Check

If you use your door daily, you should check the batteries of your remote control once every two months. A general-purpose multimeter can be used to easily test the batteries and replace them if required.

Emergency Power System

Most new garage doors come with emergency power supply system which aids during a power outage. Check if the inverter system is properly connected to the opener and that you don't have to find a needle in the dark in a time of crisis.
Use these quick tips to ensure that your garage door is functioning properly. Get in touch with us if you need professional support.